Cliffs in the Ocean (Madeira)
(full photo album - with a bit of a Porto - here: https://goo.gl/photos/3uqPaeTbG5TWsgit8)
To continue the destinations overview, I decided to go with the same practice I used for the previous post about Porto - "the closest best thing", which, in this case, was Madeira. To immediately adjust expectations from the article - it's a beautiful place.
So... Madeira. Actually it's both island and archipelago - meaning, name stands for both the island and teh region. Located some 500 km from Portugal and claimed by Portuguese in 1419, nowadays it's a rather popular resort and a free trade zone with a population little shy of 300,000 and the capital city Funchal with a population of about 110,000 (I'll cover it a bit more later on).
Free trade zone - geographic area where goods may be landed, handled, manufactured or reconfigured, and reexported without the intervention of the customs authorities. Only when the goods are moved to consumers within the country in which the zone is located do they become subject to the prevailing customs duties.
Madeira is a volcanic island - a top of volcano, in fact - about 57 km long and 22 km wide.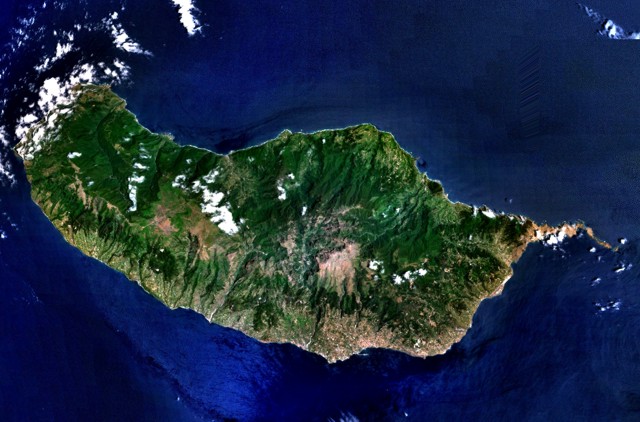 The elevation rises quite rapidly, especially along the north shore - the shore itself faces majority of the Atlantic waves, so it's all beaten and steep, with high shore cliffs and little access to the ocean (which you would really need in two cases here anyways - if you're a surfer, and if you're to contemplate the ocean - which is a beautiful thing to do, actually).
I thought this time instead of filling in all the dry boring details of getting there, getting around and about, I'd rather start with what's good about it (but worry not, the practical details will not be omitted - they're just further down the page).
So, what's there to like? First, it's a perfect winter getaway - I've been there at the very beginning of January 2016, and it was +18..22 Celsius at the south shore and +12..16 at the summit. It couldn't get any better in January, really. From what Wikipedia has to say, "winters being extremely mild and summers long but with relatively modest heat" - and I do believe that. Also regarding wintertime (quoting that same Wikipedia article), "New Year celebrations feature the largest fireworks show in the world, as officially recognised by Guinness World Records in 2006". It seems fairly popular - I couldn't secure any reasonable airfare on Dec 30/31. Although I can't say I faced any crowds afterwards.
Next, The Mountains.

Being of a volcanic nature it is, Madeira peaks are formidable and beautiful - yet they're tamed to be very accessible:

Sure, it's not a walk in a park to scale 7 kilometers of a trail that follows the ragged ridge, but the trail is wide and very well maintained. I started my trail at Eira do Serrado mountain hotel, located over the lovely village of Curral Das Freiras:

and followed it up to the Pico do Arieiro, which is also reachable by car. One can be pretty satisfied with views from a numerous viewpoints at that spot - but for those who are not, the trail to the summit (Pico Ruivo, 1,862 meters or 6,109 feet) starts there. If you follow it, mind the distance - it's 7-something kilometers one way, and even though the trail is well paved, it's not an easy walk. And from Pico Ruivo it'd take you another 10 to 18 kilometers to reach a settlement, if you're to descend to the north shore.
Here's the summit view as a reward:

That's a refuge BTW, I'm not sure how to arrange a stay there - but should be possible.
There's some water available here and there (like in the aforementioned refuge), but you better pack enough of it with you, especially in the summer - climbs are significant and break the sweat in no time, even in winter.
North shore seems to be popular among retired English and German ladies and gentlemen, and most of the accommodations are resort-style. They're not bad, but a little dull. Getting around there is complicated - so if you drive, it's better to rent a car and plan accordingly. Part of the North shore roads are very narrow and scary, but most are rebuilt into modern tunnels and highways, so it's mostly fine. I really envied two folks on motorbikes, seemed like the best way to get around.
Me, being licenseless pedestrian I am, had to choose between two options: use buses or call a cab. I chose the latter, because let me tell you about the former.
Generally Madeira is covered with bus routes "well enough" - you can catch a bus at any town, and there's a reliable timetable - see http://www.madeira-island.com/bus_services/.
There are few problems though:
buses are few (like, one or two per day), so you need to follow the schedule
you often need to change a bus once or twice if travelling long distance
buses follow the highway closer to Funchal, sure - but before that they visit every single village along the way, so seemingly short 30-kilometer journey turns into a 4-hour struggle "where the hell are we going NOW?!". So if you hop on, mind having a good read. Good news: bus stops few times so passengers could visit a restroom/bar/stretch their legs.
So if you have some cash to spare, or if there's at least two of you, I suggest getting a taxi. It is rather expensive from/to the airport, but the rest of the island is fairly inexpensive, something like €25 for 30 kilometers (but it'd be twice the price from the airport). Hotel staff is usually happy to call one for you.
Speaking of the Funchal airport - it was "one of the scariest runways to land" not that long ago due to its short length and strong winds above it. Now it's significantly longer, but still not very friendly:

(for extra fun, go see numerous "Funchal strong wind landing" videos on YouTube).
There are some direct flights from some European capitals - I remember seeing one from Berlin - but it's safer to rely on ones from Porto or Lisbon (warning about Lisbon: connecting flight might be in another terminal, so allow longer layover to cover it). Besides, it's a good opportunity to visit lovely city of Porto or debatable city of Lisbon (I'm yet to write about it, but in short it's worth visiting once for sure).
But back to things to enjoy - as I've been saying, it's mostly nature: mountains in the Centre/Eastern part of the island, minor islands at the East/North-East, and some lower peaks at the west side. West corner is a beauty by itself though (this is Porto Moniz):

Ocean is more placid (and shoreline less steep) at the south side - that's also where vineyards are and the capital (Funchal) is.
Funchal is... divided. It has few distinctive parts:
historical centre and east-side - many vividly painted and nicely preserved buildings, a pleasure to walk through. Many bars and restaurants, and a small pier that attracts local lovebirds and rare tourists.
upper side crowned with botanical garden. You can ride a funicular there, or you can follow a trail - the latter is more fun, and you can go down by funicular if you wish (the thing costs €10 though). Botanical garden is... OK. It's a pretty place, but it's crowded and generally not much - except for few-thousand-years-old olive trees that grow near the entrance, those are mesmerizing.
east side with hotels, casinos and beaches - there's some famous black sand beach Praia Formosa, but I didn't have time to go there, thus can't comment.
Overall it's a nice place to spend a day after arrival/before departure (the latter makes more sense I think), but don't expect much. Fortress is pretty though:

and some buildings are sheer fun (although that's another bias of mine):

And now we're getting to the best part... the treats! Or shall I concentrate on the wine? Let me at least start with it...

I adore Madeira wine - but I have a bias on fortified wines in general. Good thing about Madeira wines though, you can choose the sweetness - it could be really sweet, or it could be fairly dry (unlike mostly very sweet Porto wines). It's not Jerez-dry (although Jerez wines could also be d sweet), but it's a good balance.
There are few large wine houses in Funchal - Blandy's is probably the most famous, and one of the best too. They offer a variety of tasting sets and a nice wine-barrel-surrounded atmosphere to taste it, I can honestly recommend a visit.
On the other food, drinks and minor facts, let me put them in a list:
try Poncha - a mix of sugar cane spirit, honey and lemon/orange juice. It's a real local treat, and it's fairly strong.
do not try sugar cane spirit itself - it's awful, any kind of it
do try as many Madeira wine as you can - or, if you're not a fan of fortified wines, dry reds are pretty decent too
also try a local cake, Bolo de Mel - a moderately sweet treat made of sugar cane, honey and nuts.
Espada (Black scabbardfish) is main local fish delicacy you can find in almost any restaurant - and it's pretty good. Other local seafood is also worth attention.
Stash some cash for taxis and grocery stores
Consider climbs and altitude
Consider backup plans - weather might change, and climbing the heavily clouded mountains might not be fun. There's enough lower altitude trails though.
With all that, I really truly recommend the place - I've enjoyed it a lot, and I hope to go there again, for there's still a lot to cover. It could be lively, and it could be desolate; it could be strenuous and demanding, and it could be relaxed and easy; it could be wine and it could be more wine; or Poncha.
Cheers!